Services
Wealthstream's services can encompass the full spectrum of your financial needs, including advanced planning for investments, retirement, taxes, estate planning, cash flow, insurance, philanthropy, debt management and education funding.
Retirement
Retirement income distribution strategies
Retirement cash flow scenarios
Social Security planning
Maximization of retirement plan options at work
Tax Planning
Monitoring and adapting to tax law changes
Tax planning strategies
Tax loss harvesting
Estate Planning
Tax minimization
Beneficiary designations
Business succession
Asset protection
Wealth transfer
Legacy planning
Debt Management
Cash flow management
Debt structure
Education
Tax-sensitive planning
College funding projections
529 plans
Other funding vehicles
Insurance
Life, disability and long-term care
Review of existing policies
Needs analysis
Philanthropy
Tax-effective charitable giving
Family involvement
Legacy creation
Donor-advised funds
Investments
Integration with risk tolerance
Focus on after-tax returns
Diversified portfolios
Alignment with goals
The Wealthstream Team Has Particular Focus in:
Retirement income strategies
Formulating a plan for withdrawals that minimizes taxes
Developing Social Security maximization strategies
Optimizing pension payout options
Determining timing of retirement payouts
Tax planning*
Coordinating tax strategies: sale of taxable assets, deductions, tax-loss harvesting, etc.
Minimizing tax exposure
Monitoring tax law changes and proposing tax-efficient solutions
Maximizing retirement savings plans
Analyzing Roth IRA conversion options
* The principal and associates of Wealthstream Advisors are neither tax accountants nor tax attorneys.
The Process
At Wealthstream, we embrace a comprehensive, ongoing process that looks at how all the different parts of your financial life work together in order to develop a plan that helps you achieve your financial goals.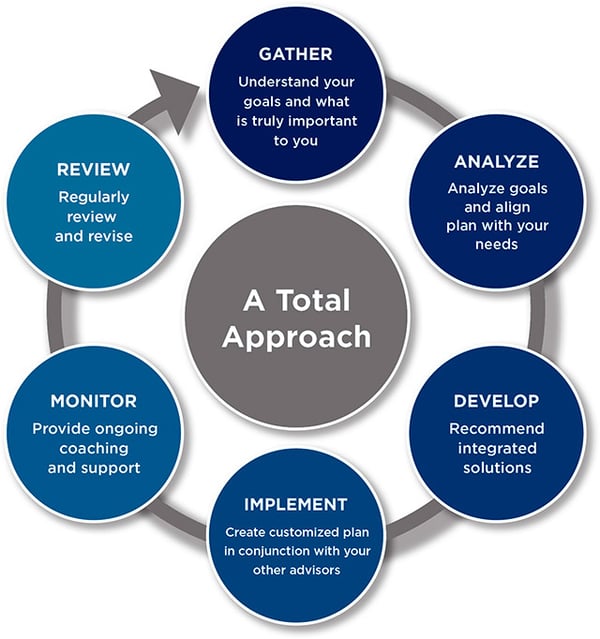 Investment Philosophy
At Wealthstream, we have designed an evidence-based investment strategy built on decades of Nobel Prize-winning research. We create and employ strategies founded upon consistency and discipline, with a focus on tax efficiency, low costs, diversification and asset allocation, all in an effort to achieve optimal after-tax returns. Acting in a fiduciary capacity, we work with you to design an investment strategy that is fully integrated with all aspects of your financial life; investment decisions are never made in isolation, but rather as a part of your entire financial plan.
Wealthstream's Investing Principles
We are fiduciaries—we are bound by law to act in your best interest.
We take an academic approach to investing that is supported by decades of evidence-based research.
We believe diversification and asset allocation are key drivers of performance.
We emphasize tax-efficient investing and after-tax returns.
We ignore the media noise and Wall Street hype, relying instead on proven principles and a long-term approach.
We subscribe to the evidence that the majority of active managers underperform their benchmarks over time, after fees.
We focus on keeping your investment expenses low.
We stay unbiased and independent—we have no ties to any investment managers.
We invest for total return after taxes and net of fees, by focusing on both investment income and appreciation.
We rebalance as necessary to maintain your risk and return profile—"buy low, sell high."
We help you overcome urges to change investments at the wrong time—patience and discipline prove the wisest strategies. We coach you through inclinations to be too conservative or too aggressive, both of which can impede the achievement of your goals.
Company Retirement Plans
Implementation
Wealthstream works hand in hand with business owners on establishing and maintaining an appropriate retirement plan based on the firm's and participants' respective goals and needs. We utilize a variety of recordkeepers and third party administrators in order to ensure that your company plan is put into practice and managed by industry experts.
Investment Recommendations
Many company retirement plans are limited to a specific set of costly mutual funds. Wealthstream offers the opportunity for plans to use an open architecture platform focused on low cost fund options and specific model portfolios based on each participant's given risk profile. Our goal is to educate owners and participants on the benefits of company retirement plans.